urban research 2008 selection
Urban Research selection 2008 at Cinema Rodina, St. Petersburg
Program Details
(Curator Klaus W. Eisenlohr)

Berit Hummel
Ein weites Land, 10:38, HDTV, DE, 2007

The episodically structured video 'Weites Land' is a variation on the idea of conquering a foreign land. Typical behaviour patterns of classical Western-movies are simplyfied in a way that the whole plot stages male rituals of rivalry in an exemplary way. The scenes are set on locations in urban space, where modern architecture and public parks form a surreal symbiosis. The artificial nature idyll becomes the stage for two men in dark suits.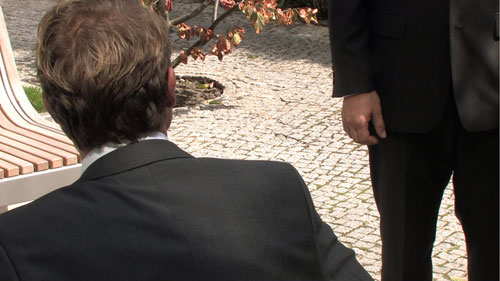 Back

Ken Paul Rosenthal
I My Bike, 5:50, 16mm/ DVD, USA, 2001

A cinepoem that traces the conflict between urban space and the body from a child's compulsion to stare into the sun to an adult's obsession with dying and moving towards the light. The past and present collide within a round portal containing fleeting images of 1905-era San Francisco over a dense sea of modern day bicyclists.
http://www.kenpaulrosenthal.com/imybike.htm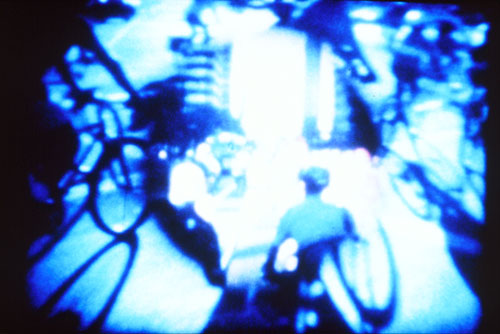 Back

Telemach Wiesinger,
3 x 1, 10:00, 16mm, b/w, DE, 2007

"3x1" shows three different views on one single bridge. It could be seen as a series out of Telemach Wiesinger's past experimental film, titled "LANDED". Composer Tobias Schwab adds the soundtrack to this new art film with three episodes.
www.telemach-wiesinger.de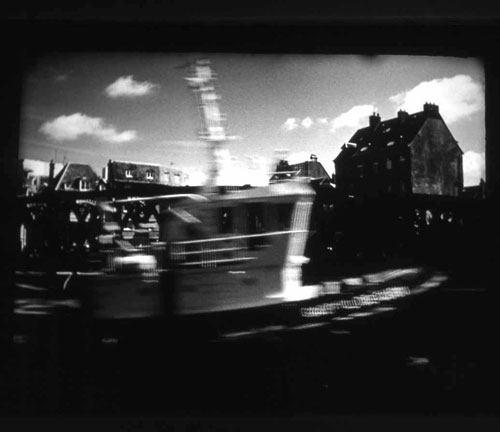 Back

Stephanie Gray
Gertel's galore .. lore .. ore, 7:00, silent, DVD, USA, 2007

One the last real Jewish bakeries on the Lower East Side succumbs to the unfriendly real estate market in NYC. The filmmaker caught its last or next to last day. She is still so distraught she can't quite remember. A little research should do the trick but she can't pick up her head. While the business will continue on in another borough or in mail order, there was nothing quite like the storefront and its beautiful signs. The sign next door for something hard-ware like somehow made its way into this film. The interior was quite dark, and it seemed it was too crowded with people or memories or both to quite venture in there. Instead, the filmmaker stayed outside to get one last memory.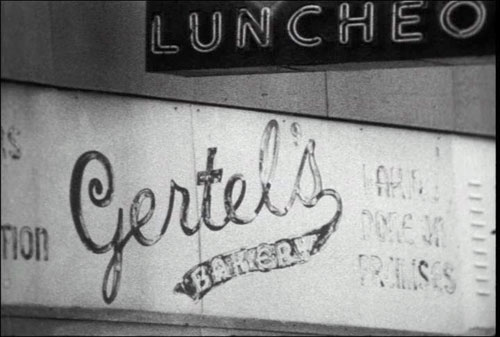 Back

Astrid Menze
Daily, 1:00, DVD, DE, 2007

An experimental observation on daily life occupation or ritual seen in a foreign country.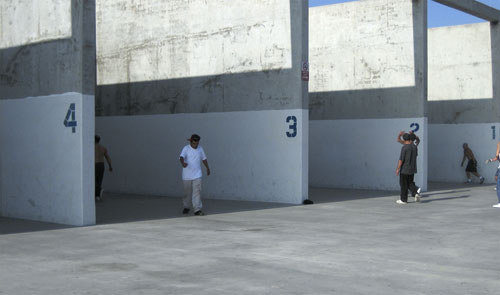 Back

Eric Fleischauer and Jesse McLean
D R I F T Promontory Point, 5:17, DVD, USA, 2007

Wireless video cameras attached to weather balloons were employed to transmit an expanding view of significant Hyde Park locations, acknowledging the rich, diverse and sometimes hidden history embedded within this Chicago neighborhood.
Promontory Point ­ This location was a former radar site for one of three NIKE Missile Bases located in Chicago. These bases, which housed missiles armed with nuclear warheads, were part of a Cold War defense system protecting the U.S. boarder from Soviet attacks.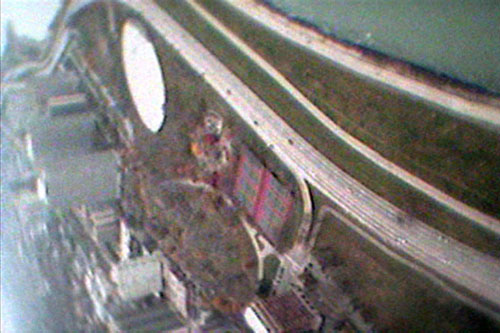 Back

Jani Ruscica
Beatbox, 8:40, DVD, FIN, 2007

Beatbox is part of a pair of alternate films Jani Ruscica released in 2007. Batbox / Beatbox parallels two very opposed environments: nature depicted through bats' nightly echolocation and the urban metropolis navigated by hip-hop artists. In Batbox sound and movement is portrayed as a biological phenomenon, in Beatbox as a cultural one.
The spotlight used to highlight the suburban streets, basketball courts and subway tracks in Beatbox reveals the urban space a stage, where in the words of Vocab every street corner and fallen cigarette has the ability to tell a thousand stories.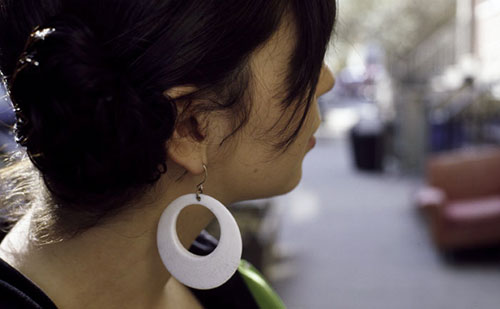 Back

Ben Russell
B/W Trypps #3, 12:00, DVD, USA , 2007

Lightning Bolt are a noise-punk band from Providence, Rhode Island who play fast, aggressive and noisy free-form music and consciously choose not to separate themselves from their audience -- for their live shows, they prefer to play in the middle of the venue's floor rather than on a stage, with the listeners surrounding them as they tear into their songs. Filmmaker Ben Russell took a 35mm motion picture camera to a Lightning Bolt show and filmed part of their set from over the band's shoulder; the result is the film Black and White Trypps Number Three. For the first four minutes of the film, a spotlight illuminates a small portion of the sea of bodies surrounding Lightning Bolt as they play, with the spectators dodging in and out of the visible image. Suddenly, the image shifts into slow motion as a droning remix by Joe Grimm takes over the soundtrack, with the images of shifting bodies and faces slipping in and out of the light taking on a certain sweaty but poetic beauty.
http://dimeshow.com/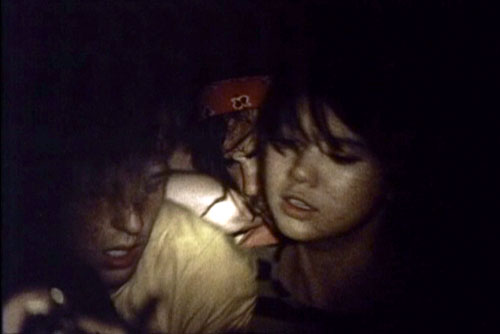 Back

Steven Ball
No-way Street, 1:00, DVD, UK, 2007

Cordoned areas and blocked streets have become an increasingly common occurrence in urban centres. The strategy of producing public spaces of exception disrupts the pedestrian's everyday practice of writing the city. As regular pathways are rerouted along side streets and down unfamiliar alleys, the city starts to become a strange place, a more abstracted experience, memory of space becomes unreliable. No-way Street enacts the discombobulating effect of such orientation realignment through passages of multiple short video loop sequences of blocked streets, diverted pedestrians and police cordons, constructed as a spatial and temporal matrix.
No-way Street arose out of the experience of being all but trapped in Central London during the 7th July 2005 bombings and negotiating the cityscape in the days and weeks immediately following.
www.steven-ball.net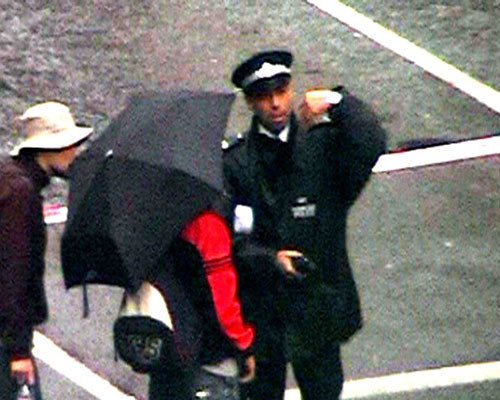 Back

Clemens Fürtler
Bildmaschine, 3:42, DVD, AU, 2007

All my films have been shot in modells. The modell fro this film is a 120m long modell race car track with sizes of 375 x 375 x 80 cm. On different vehicles, radio video cameras have been mounted. The such retrieved material is starting point for film, photography and painting
www.fuertler.com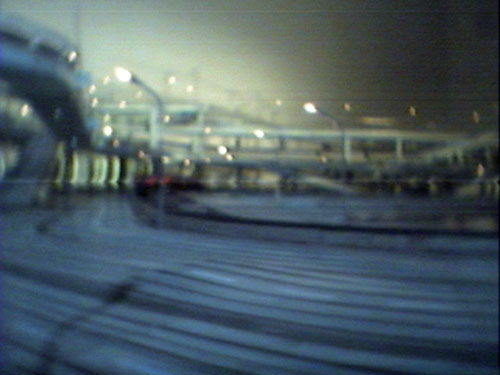 Back

Tibor Gulyás, Balazs Irimias
Mobility, 5:00, DVD, HUN, 2003

The film "MOBILITY" is about an experimental journey in Budapest and also in the hungarian urban life.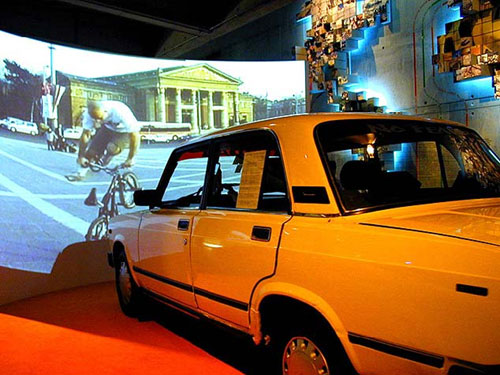 Back

Images of Screening at Rodina St. Petersburg
Links:
www.directorslounge.net


Back to News