Issue #1417 (81)
Friday, October 17, 2008


Arts + Features
Directors Lounge on the Neva
By Elmira Alieva
Special to The St. Petersburg Times

Directors Lounge began in 2005 as a meeting point for filmmakers and video artists interested in experimental forms of cinema at the Berlin International Film Festival. It presented rare, experimental or unknown works which don't fit into any category of the Berlinale. Since then the festival has become an annual event that takes place every February in Berlin.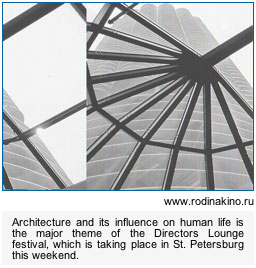 Directors Lounge has, within a very short space of time, gained recognition for its unique character. This is more than a festival; this is a cinema, club and bar where directors and film aficionados share their ideas. At each event the festival presents special screenings that explore new trends in experimental cinema and video-art, video installations, live events, meetings and discussions with directors.

Directors Lounge travels the globe to present its best films several times a year, and St. Petersburg is one of the few cities which the festival will be visiting this year. For the first time Andre Werner and Klaus W. Eisenlohr, the founders of Directors Lounge, will come to St. Petersburg to hold the festival on October 15-19, organized by the Rodina cinema center and the Tour de Film company under the auspices of the Goethe cultural center.

"This is a festival of experimental forms of cinema, but it doesn't mean that these films are only for professionals. Sometimes the audience can find it difficult to understand auteur cinema, but Directors Lounge offers films which do not require any special cinematographic knowledge ‹ this cinema is watchable," said Alexei Dmitriev, curator of the project.

The directors of the festival's screenings come from all around the world; most of them are not professional filmmakers, but photographers, artists, philologists and other people with backgrounds outside of the film world. "It is a common fact that quite often good experimental and auteur cinema is made by non-professionals. This kind of cinema involves a search for innovations and discoveries in visual arts, so non-professional filmmakers feel free not to follow any rules, they experiment and look for new forms of cinema," said Dmitriev.

The festival in St. Petersburg will present the best Directors Lounge films, including two Russian screenings: "Untitled #1" by Masha Godovannaya and "Dubus" by the AV project. The 4-minute black-and-white film by Masha Godovannaya was shot in St. Petersburg. It examines a young girl's mature dance performance on the city streets. "Dubus" is a 4-minute collection of classical American film clips given a new musical accompaniment.

Urban research is one of the major subjects of the festival. There will be a special day devoted to the theme of architecture and its influence on social space. The opening film of the festival is "Slow Space" by Klaus W. Eisenlohr. This film investigates the relationship between the body and the urban architectural environment through the example of Chicago. The film will be shown on 16 mm film for the first time in the post-Soviet history of St. Petersburg.

"Experimental cinema is completely different from commercial mainstream cinema. In these films actors don't talk a lot, they like singing in Japanese, the camera is often static, and the colors are monochrome. Such films are minimalistic; they don't have a lot of details. The accent is on the visual perception," explains Dmitriev.

The last day of the festival will be marked by a retrospective of Andre Werner's films. This is auteur cinema with Asian motifs and minimalism. All programs will be introduced by curators and followed by discussions.

"Experimental cinema is a kind of modern art. We are organizing Directors Lounge in St. Petersburg to familiarize its citizens with the modern trends in non-commercial cinema from different countries," said Dmitriev.

Directors Lounge runs from Oct. 15 through Oct. 19. All screenings are held at Rodina cinema center.

Oct. 15, 9 p.m.
"Slow Space" by Klaus W. Eisenlohr.(Germany-USA 2006)

Oct. 16, 7 p.m.
"Slow Space" and discussions at the Goethe cultural center.

Oct. 17, 9 p.m.
"Best films of Directors Lounge."

Oct. 18, 9 p.m.
"Urban Research."

Oct 19, 9 p.m.
"Retrospective of Andre Werner films."


Original Article in St. Petersburg Times


Images of Directors Lounge Festival in St. Petersburg

Zurück