Urban Research selection presented at Urban Explorers Festival Dordrecht - Rotterdam
12 + 13 May 2007
Thanks to Katja Diallo/ Noordkaap, Urban Research can be presented during the Urban Explorer festival in the project rooms of Noordkaap, Dordrecht, NL
Is een driedaags festival waaraan wordt deelgenomen door gerenommeerde en minder bekende beeldend kunstenaars, VJ's en DJ's, filmers, performers, dansers etc., die de ongebaande wegen betreden en de grenzen tussen wat kan en niet kan aftasten. Stedelijke expedities, waarbij op onverwachte plekken muziek, kunst en dans kan worden aangetroffen, vormen de rode draad in de programmering en zijn tevens de inspiratiebron voor de makers.

Een onderdeel van het muziekprogramma van U.E. vindt plaats in de nieuwe projectruimte van Noordkaap op de Voorstraat 123.
NOORDKAAP // U.E. // PROGRAMMA 11 T/M 13 MEI // FILM Een selectie uit het internationale filmfestival Urban Research, ondersteund door de Directours Lounge Berlijn.
Curator Klaus W. Eisenlohr
Urban Research 2007

www.directorslounge.net

Urban space is under rapid change. The city has long played a predominant role in the work of artists, the city as image, as ideal, as Moloch, as source of joy and social destruction, and not least as icon of Modernity. The increased dynamic of urban development - either as Shrinking Cities or exploding Megacities - urges for new concepts and a rethinking of urban space. Contemporary architectural and social impacts on urban developments and public space have become a theme for many artists. The collection of short films comprises documentary, experimental and intermediate forms. Urban Research presents artists and filmmakers who address the progress of urbanity and who are concerned with urban space and public space in their work.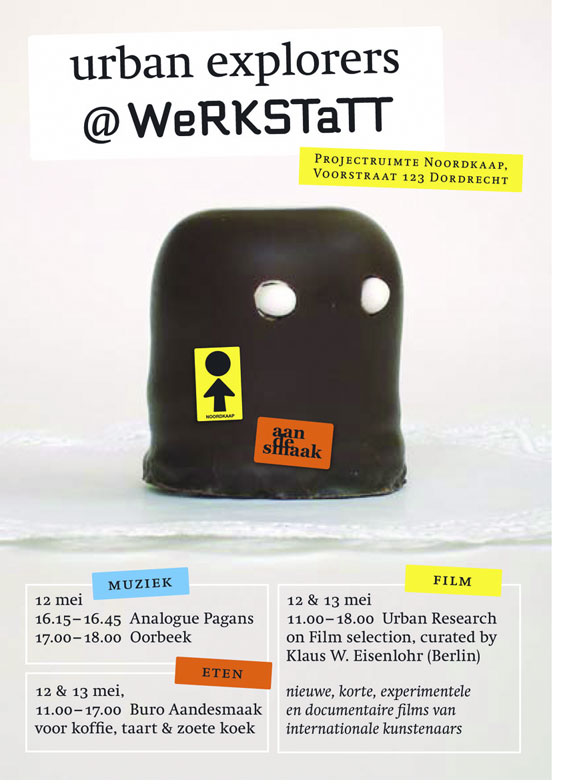 Zaterdag 12 en zondag 13 mei 11h.-18h. in de projectruimte
Roger Warren Beebe - Strip Mall Trilogy,9:15, USA , 2001

"The Strip Mall Trilogy" is a series of three city symphonies that attempt to liberate color, sound, and form from the sprawling consumerist landscape of postmodern America. Part 1, 'Green Means Go,' presents fragments of color over a musique concrete soundtrack composed of sounds recorded at the strip mall. Part 2, 'The Abecedaire,' wrestles (and later plays) with alphabetic form extracted and abstracted from the signs of commerce of which they are normally a part. Part 3, 'X-formations,' tries to argue that there is, in fact, beauty after strip malls. Let's hope so.
Julie Murray - Detroit Park , 8:00, USA 2005

Michigan Theatre was an elaborately decorated theater at the heart of a busy and vibrant downtown Detroit in the 1920s. The advent of television in the 1950s saw a significant drop in public performance attendance and it was finally closed in 1967. Sometime in the 1970s it was converted into a parking lot, where floors and ramps were installed with only the most necessary intrusion upon the old interior. Murray's camera is driven by impulses of awe and reflection. In Detroit Park she does not celebrate the 'good old times' but she rather encompasses future and past in one movement that reveales otherwise unseen layers of overlapping times in the urban mesh.
Edita Stepien, Margaret Noble - Sonata , 18:09, USA 2006

Interested in the collaborative fusion between audio and video, analogue and synthesized, Margaret Noble and Edyta Stepien decided to explore these dichotomies through a contemporary reinterpretation of the classical form 'Sonata.' Through the sounds and imagery of architecture and nature, this piece examines our current environmental conditions. Modeled on a pictorial score and recorded as a live performance mix, "Sonata" alternates between nature and urban industry in the settled terrains of the American Midwest.
Katerina Sedá - There is Nothing There , 14:00, CZ 2003

Ponetovice. A village close to Brno in Czeque Republique. No post office, no school. One Saturday in May, everybody in town is doing what they usually do on Saturdays; except this time artist Katerina Sedá directed the inhabitants like a real life video game into a synchronism of the ordinary. The film gives a multitude of ideas on the problems and chances of being on the verge between rural and urban life. From the questionaires handed out to the citizens of the village Katerina found out that all families spent Saturdays in the countryside in a similar way. She also discovered that nowadays people from a village live with a certain skepticism, they feel as if all the important things happen in the city and say 'there is nothing' in their village.
Vrijdag 11 t/m zondag 13 mei vanaf 21h. window screening
Seppo Renval - Rumpu Zinfonia , 21 min, FIN 2005

The camera meanders through artificial architectural space: architecture models. All the models represent exsisting buildings in Helsinki. The camera speeds up, the low-resolution video quality and lighting create sensations of real space, of emotional space. Thus, the film reinterprets the imagination and conception of materialized architecture, or more so, the ways architectural space has been depicted before being realized.
Kemmy Thyssen - In'na City , 7:23, DE, 2005

In 'na City seeks for harmony, connectivity between images and music. A collage with images from the City of Hannover ‹ skyscrapers, traffic, the surface of the city and its mesh ‹ that creates a composition, a new vision. Images and colours become music and rhythm, which complement sounds and beats. Everyday space and vernacular modern architecture are the matrix of pulsing music.
Virgine Laganiere - The Corridor, 2:26, CAN, 2005

A corridor, passage way between offices, becomes the internal and visible projection of the outside city. Dream, hope or halluzination? Virginie Laganičre shows, with very dry humor, imaginary metamorphosis of the daily urban environment.
Ivan Martinez - Fear Itself ... Yea Right , 7min, USA 2006

"According to the media and government officials we have much to fear, despite what FDR once proclaimed. With anxiety on the rise, running scared is all we have left, at least to warn others of the impending doom. This custom animation and action script allows me to frantically run through the streets typing out my fears for all to know in real time. If needed my character could stop running to converse with someone on the street, but when fear strikes, its off and running again." Fear Itself, by Miami based Ivan Martinez, is a street art projection using custom action script in which he runs scared through the streets typing in his fears which are then projected on building facades. The works combines concepts on the running tiger of Karolina Sobecka´s Wildlife, previoulsly mentioned here and Paul Notzold´s "What/Who Are You Afraid Of?". According to Wooster Ivan started in August doing guerrilla projections of images on the new building developments that are appearing in and around downtown Miami.